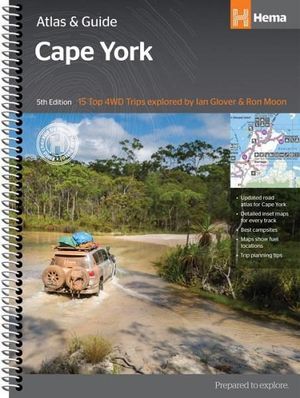 $49.95
AUD
Category: Maps
Hema Maps¿ Cape York Atlas & Guide helps you make the most of your visit to this remarkable part of Australia. With detailed coverage of The Tip, the coast from Cairns to Cooktown, Rinyirru (Lakefield) National Park, the Peninsula Developmental Road, Old Telegraph Track, Torres Strait and the Savann ah Way, it ensures you won¿t miss the `must-see¿ attractions, but it also describes some of the lesser known areas favoured by the experts. Whether you just want to make it to The Tip or are looking for a serious 4WD adventure, this informative book is an indispensable companion. The book features 15 4WD trips, explored and revised by travel journalist Ian Glover, with photography by Matt Williams. Each trip has a detailed map, plus all the information you need to plan the trip including trip grading, longest distance without fuel, permits and contact details. This brand new edition of Hema¿s best-selling outdoor guidebook for discovering Cape York now features 22 atlas pages in a stunning new cartographic style and also incorporates content from the popular Cape York Travel & Adventure Guide by Ron and Viv Moon as well. ...Show more
$14.95
AUD
Category: Maps
$12.99
AUD
Category: Maps
National Map Sheet Map   Australia map with projection-Lamberts conformal conic including index to cities, towns & localities   City maps for: Brisbane, Melbourne & Sydney at a scale of 1: 20 400 Canberra, Darwin, Hobart, Perth at a  scale of 1 : 25 500 & Adelaide at a scale of 1: 30 600   Distance chart with distances between major towns   Maps including time zones, climatic regions & rainfall. ...Show more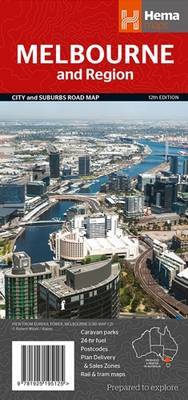 $8.95
AUD
Category: Maps
A city and suburbs road map of Melbourne that has additional information and maps for discovering Melbourne and its surrounds.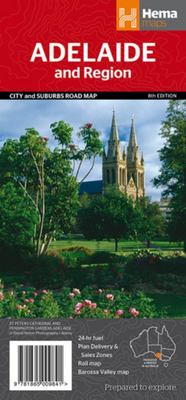 $9.95
AUD
Category: Maps
A map of Greater Adelaide (1:80,000) that features highways, major roads, local streets and suburbs in addition to 24-hour fuel, parks and caravan parks marked on the mapping. On the reverse is an Adelaide City map that has accommodation, shopping, theatres, places of interest and more highlighted, acco mpanied by an Adelaide CBD street index. Also included is an Adelaide Region map, an Adelaide Rail Network map and a Barossa Valley map. ...Show more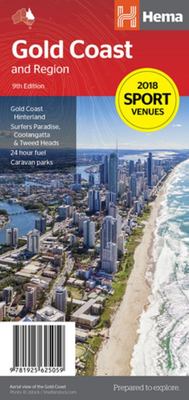 $9.95
AUD
Category: Maps
Map of Gold Coast: CBD, City, Suburbs & Hinterland This map of the Gold Coast includes detailed mapping of the city (1:15,000) and suburbs (1:50,000), as well as a comprehensive overview of the surrounding Gold Coast Hinterland (1:100,000). There¿s plenty of useful visitor information marked on the mapping for staying in and getting around the Gold Coast, including fully updated roads, facilities and accommodation, as well as 2018 Commonwealth Games venues and temporary Park Ride locations. ...Show more
$9.95
AUD
Category: Maps
A fully indexed state map of New South Wales at a scale of 1:1,400,000. Marked on the map are national parks, camping areas, caravan parks, rest areas, points of interest and 24-hour fuel accompanied by a distance grid.