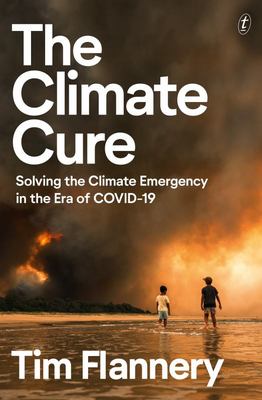 $24.99
AUD
Category: Enviromental Issues
Australians are witnessing an unprecedented government response to crisis-swift decisive action to avert catastrophe. And the advice of scientists has informed every step of the way. But for decades the advice of scientists on the impending catastrophe that climate change will bring has been ignored, di smissed and even ridiculed. Renowned climate scientist Tim Flannery takes aim at those in government and in the fossil fuel industries for their inaction and lies in response to calls to address the very real and immediate threats posed by climate change. Threats that are now upon us, as the 2019/20 Australian bushfires and floods have shown. Flannery sees 2020 as a turning point. He explores the measures at our disposal to reduce CO2 emissions. He looks at the ways carbon can be drawn out of the atmosphere and safely stored to stabilise atmospheric carbon levels. And he demands a new approach that puts tackling climate change in the hands of the scientists who can lead the way. The Climate Cure is an action plan for survival, a call for government policies that, like its COVID-19 response, rise to the very real climate challenges we face. There is reason for optimism - if we act now. ...Show more
$39.99
AUD
Category: Enviromental Issues
Call of the Reed Warbler will change the way we farm, eat and think about food. In this groundbreaking book Charles Massy explores regenerative agriculture and the vital connection between our soil and our health. Using his personal farming experience as a touchstone, he tells the real story behind ind ustrial agriculture and the global profit-obsessed corporations driving it. He shows how innovative farmers are finding a new way, regenerating their land and witnessing astounding transformations. Evocatively, he captures what it truly means to live in connection with the land. For farmer, backyard gardener, food buyer, health worker, policy maker and public leader alike, Call of the Reed Warbler offers a clear vision of a sustainable future for our food supply, our landscape, our health and our Earth. It offers hope and a powerful affirmation of our potential for change. Now is the time for a grassroots revolution. ...Show more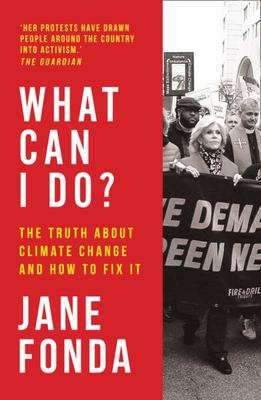 $9.99
AUD
$34.99
(71% off)
Category: Enviromental Issues
This is the last possible moment in history when changing course can mean saving lives and species on an unimaginable scale. It's too late for moderation. In the fall of 2019, frustrated with the obvious inaction of politicians and inspired by Greta Thunberg, Naomi Klein, and student climate strikers, J ane Fonda moved to Washington, DC to lead weekly climate change demonstrations on Capitol Hill. On October 11, she launched Fire Drill Fridays (FDF), and has since led thousands of people in non-violent civil disobedience, risking arrest to protest for action. In her new book, Fonda weaves her deeply personal journey as an activist alongside interviews with leading climate scientists, and discussions of specific issues, such as water, migration, and human rights, to emphasise what is at stake. Most significantly, Fonda provides concrete solutions, and things the average person can do to combat the climate crisis in their community. No stranger to protest, Fonda's life has been famously shaped by activism. And now, on the eve of the next US presidential election, she is once again galvanizing the public to take to the streets. Many of us understand that our climate is in a crisis, and realise that a moral responsibility rests on our shoulders. 2019 saw atmospheric concentrations of greenhouse gases hit the highest level ever recorded in human history, and our window of opportunity to avoid disaster is quickly closing. As Annie Leonard, Executive Director of Greenpeace US and Fonda's partner in developing FDF, has declared, "Change is inevitable; by design, or by disaster." Together, we can commandeer change for the positive – but it will require collective actions taken by social movements on an unprecedented scale. The problems we face now require every one of us to join the fight. The fight for not only our immediate future, but for the future of generations to come. ...Show more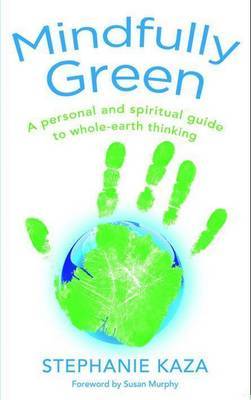 $9.95
AUD
Category: Enviromental Issues
We may try to live sustainably, but what is our personal connection with green living? And, particularly, what is my impact on the natural world? This personal perspective is the one thing missing from discussions about living sustainably.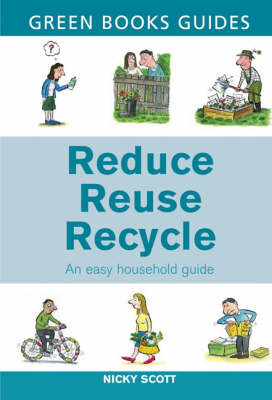 $7.95
AUD
$12.95
(38% off)
Category: Enviromental Issues | Series: Green Books Guides
What do you do with your old mobile phone? Where can you take your old medicines? Which plastic is recyclable? What happens to the stuff you recycle? This easy-to-use guide has the answers to all your recycling questions. Use its A-Z listing of everyday household items to see how you can recycle most of your unwanted things, do your bit for the planet, and maybe make a bit of money while you're at it. Did you know that: Around 60 per cent of your rubbish can be recycled - but only 11 per cent is recycled (half is sent to landfill); landfill sites are running out; recycling a one-metre stack of newspaper saves one tree; it costs GBP332 million a year to clean up the litter on Britain's streets; and 150 million plastic carrier bags are used in the UK each week - they last up to 500 years in landfill. "Reduce, Reuse, Recycle" is packed with ideas for cutting your consumption, reducing your rubbish, reusing, and recycling. It will also tell you where your old plastic goes to, what happens to your old glass jars, how they handle waste in other countries. "Reduce, Reuse, Recycle" is an invaluable guide for anyone who wants to slim their bin and help stop the earth going to waste. ...Show more
$50.99
AUD
Category: Enviromental Issues
Increasingly, cracks are appearing in the capacity of communities, ecosystems, and landscapes to provide the goods and services that sustain our planet's well-being. The response from most quarters has been for "more of the same" that created the situation in the first place: more control, more intensif ication, and greater efficiency. "Resilience thinking" offers a different way of understanding the world and a new approach to managing resources. It embraces human and natural systems as complex entities continually adapting through cycles of change and seeks to understand the qualities of a system that must be maintained or enhanced in order to achieve sustainability. It explains why greater efficiency by itself cannot solve resource problems and offers a constructive alternative that opens up options rather than closing them down. In "Resilience Thinking", scientist Brian Walker and science writer David Salt present an accessible introduction to the emerging paradigm of resilience. The book arose out of appeals from colleagues in science and industry for a plainly written account of what resilience is all about and how a resilience approach differs from current practices. Rather than complicated theory, the book offers a conceptual overview along with five case studies of resilience thinking in the real world. It is an engaging and important work for anyone interested in managing risk in a complex world. ...Show more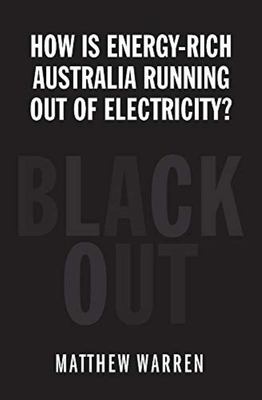 $29.99
AUD
Category: Enviromental Issues
For 20 years Australia has been in political denial about the seismic changes occurring in the way we power our country. Successive governments continue to tell people that power prices will fall while the lights stay on. Debate is reduced to two equally preposterous narratives: coal-fired, climate chan ge indifference versus an impossibly utopian renewable energy future. This nonsense swirls around an incredulous public while power prices rise, the grid is stretched, energy becomes political poison and the earth warms. How did it come to this and how can we find our way out of this mess? Matthew Warren has worked for all sides of the energy industry, is regularly attacked for being too pro-coal and too pro-renewables, and writes without fear or favour. He has been lobbying for a national climate and electricity policy for over a decade. With an entertaining and fascinating narrative, Blackout cuts through the waffle to chart the disintegration of Australia's energy security, call out what is holding us back, and plot the way for a brighter future.  ...Show more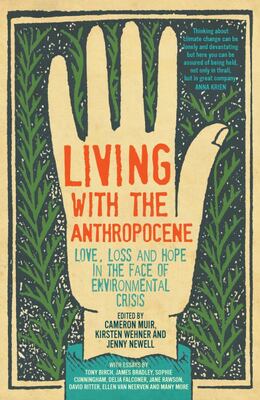 $34.99
AUD
Category: Enviromental Issues
Australia — and the world — is changing. On the Great Barrier Reef corals bleach white, across the inland farmers struggle with declining rainfall, birds and insects disappear from our gardens and plastic waste chokes our shores. The 2019–20 summer saw bushfires ravage the country like never before and young and old alike are rightly anxious. Human activity is transforming the places we live in and love.In this extraordinarily powerful and moving book, some of Australia's best-known writers and thinkers — as well as ecologists, walkers, farmers, historians, ornithologists, artists and community activists — come together to reflect on what it is like to be alive during an ecological crisis. They build a picture of a collective endeavour towards a culture of care, respect, and attention as the physical world changes around us. How do we hold onto hope?Personal and urgent, this is a literary anthology for our age, the age of humans.Contributors include:Michael Adams — Nadia Bailey — Saskia Beudel — Tony Birch — James Bradley — Jo Chandler — Adrienne Corradini — Sophie Cunningham — John Dargavel — Penny Dunstan — Delia Falconer — Laura Fisher — Suzy Freeman-Greene — Andrea Gaynor — Joëlle Gergis — Billy Griffiths — Ashley Hay — Justine Hyde — Lucas Ihlein — Jennifer Lavers — Ian Lunt — George Main — Cameron Allan Mckean — Gretchen Miller — Ruth A. Morgan — Stephen Muecke — Cameron Muir — Jenny Newell — Emily O'gorman — Kate Phillips — Alison Pouliot — Jane Rawson — Annalise Rees — Lauren Rickards — David Ritter — Libby Robin — John Charles Ryan — Katrina Schlunke — Ray Thompson  —  Angela Tiatia  —  Ellen Van Neerven  —  Adriana Vergés  —  Kirsten Wehner  —  Gib Wettenhall  —  Josh Wodak —  Kate Wright 'Living with the Anthropocene is an illuminating deep-dive in this 'storm of our own making'. With such a diverse and expansive collection of voices, what makes this book stand out is its unity. Thinking about climate change can be lonely and devastating but here you can be assured of being held, not only in thrall, but in great company.' — Anna Krien'An important book that speaks to our time.' — Tim Flannery'With this marvellous book the term Anthropocene loses its academic tinge to become a pervasive and pressing reality. A pantheon of Australia's finest environmental writers reveals the haunting personal costs of living in a world that humans have already turned upside down.' — Iain McCalman'Scientists originated the term and concept of the Anthropocene. But this work takes a much deeper dive into what the Anthropocene really means for us humans now and into the future, and – importantly – what the Anthropocene means for the rest of life with which we share this planet.' — Will Steffen   ...Show more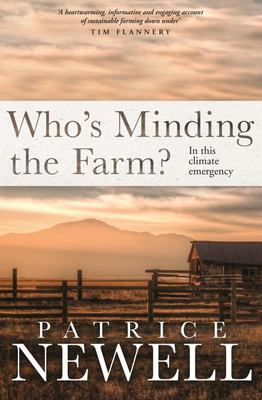 $35.00
AUD
Category: Enviromental Issues
A vital account of how sustainable farming can address urgent issues such as climate change and water scarcity, health and nutrition, land stewardship, renewables vs. the coal industry, as well as meaningful and fulfilling rural employment. And a call to arms. You know who is minding the farm - our cons umption and behaviours affect how soil is managed and what it produces. We all are. The big-picture challenges created by mass-produced agriculture are discussed, the devastation of the drought and other climate variables are unpacked, the new crops introduced and the impacts on biodiversity are unravelled. And, Patrice poses solutions and alternatives to some of the most confronting issues challenging those working on the land, and eating off it. She believes we can, and already do, produce enough good food for all populations to be well-nourished. We just need to manage it better. Patrice has invested heavily in sustainable and organic methods on her farm and travelled the world exploring best practice. Here she provides a window into the pleasures of inhabiting the land, and promotes an alternative way of thinking about value in life, no matter where you live. Elmswood Farm is quintessential Hunter Valley, but Patrice uses it as the springboard to discuss national concerns with global ramifications. ...Show more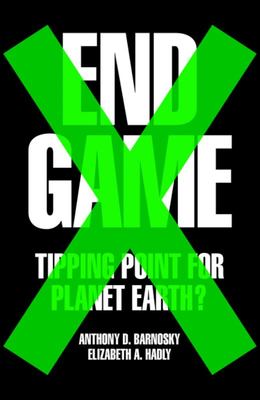 $9.99
AUD
$29.99
(66% off)
Category: Enviromental Issues
overconsumption / population growth / dwindling natural resources / climate change / disease / contamination / storms / thirst / war ...will the struggle to simply stay alive become humanity's future rather than its past? What happens if population pressures finally hit a threshold that tumbles the domi noes of food, water, energy, climate, pollution, and biodiversity, which in turn break up the intricate workings of the global society? Just how close we may be to a global tipping point becomes apparent when you take a helicopter view and see what's happening at the scale of the entire planet. In End Game Professors Anthony Barnosky and Elizabeth Hadly have compiled a giddying single overview of the calamities which we face from huge human population growth. We know that resources, climate change and environmental contamination are all at dangerous levels, but what if they all become critical at once? Unless things change this tipping point will be reached. Our carbon footprint is now a carbon acre, global warming is now simmering - we each probably use up about about 194 pounds of stuff a day and an Olympic swimming pool's worth of water each year. And soon there will be 9 billion of us. The combination of this spend will plunge us quite suddenly into a global knife fight for remaining space, food, oil and water. The danger is palpable, but the solutions, as Barnosky and Hadly show, are still available. The most important wake-up call since Paul and Anne Ehrlich's 'The Population Bomb', 'End Game' is globally relevant and increasingly crucial. ...Show more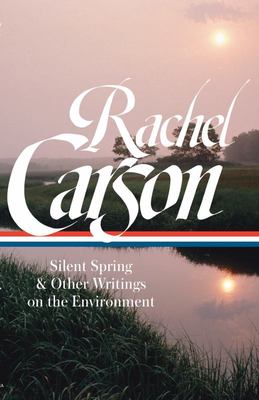 $59.99
AUD
Category: Enviromental Issues | Series: The\Library of America Ser.
The book that sparked the modern environmental movement, with an unprecedented collection of letters, speeches, and other writings that reveal the extraordinary courage and vision of its author Library of America launches its Rachel Carson edition with this deluxe illustrated volume presenting one of th e landmark books of the twentieth century together with rare letters, speeches, and other writings that reveal the personal courage and passionate commitment of its author. A huge bestseller when published in September 1962, Silent Spring led not only to many of the laws and government agencies that protect our air, land, and water, but prompted a revolution in environmental consciousness. Now for the first time, in previously unpublished and newly collected letters to biochemists, ecologists, cancer specialists, ornithologists, and other experts, Carson's groundbreaking expose of the unintended consequences of pesticide use comes together piece-by-piece, like a puzzle or detective story. She makes common cause with conservationists and other allies to build public awareness, hiding her private battle with cancer for fear it might distract from her message. And in the wake of her book's astonishing impact, as she becomes the target of an organized campaign of disinformation by the chemical industry, Carson speaks out in defense of her findings while remaining a model of grace under pressure. Throughout the collection, Carson's lifelong love of nature shines through. In writings both lyrical and intensely moving, she conveys her "sense of wonder" to her young nephew, dreams of conserving old-growth forest in Maine for posterity, and recounts her adventures and epiphanies as birdwatcher and beachcomber. A future companion volume will gather Carson's "sea trilogy": Under the Sea-Wind (1941), The Sea Around Us (1951), and The Edge of the Sea (1955). ...Show more
$29.99
AUD
Category: Enviromental Issues
We've had a decade of distraction and inaction on climate change, but what made things go so very wrong in Australia? And what can the rest of the world learn from our mistakes – and opportunities? In Windfall, renewable energy expert Ketan Joshi examines how wind power inspired the creation of a weird, fabricated disease, and why the speed with which emissions could have been reduced — like putting a price on carbon — was hampered by a flurry of policy disasters. He then plots a way forward to a future where communities champion equitable new clean tech projects, where Australia grows past a reliance on toxic fuels, and where the power of people is used to rattle fossil fuel advocates from their complacency. Renewable energy can become a key player in the effort to upgrade our species from one on a path to self-destruction to a path of sustainability and fairness. With the knowledge of how the last decade was lost, the next decade can work the way it's meant to. 'In Windfall: Unlocking a fossil-free future, renewable energy industry insider Ketan Joshi gives a teeth-gnashing account of Australia's interminable climate debates. ...Show more