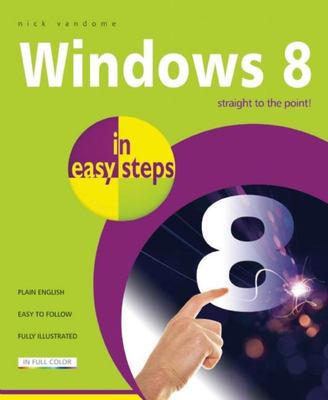 $24.95
AUD
Category: Computing
Windows 8 is the most revolutionary version yet of the popular operating system from Microsoft. With a brand new interface, new ways of getting around and accessing items and new possibilities for mobile devices, Windows 8 really does take the computing experience to the next level. But with Windows 8 I n Easy Steps you need not worry about being left behind and this book shows you everything you need to know to get up to speed with Windows 8. The book begins by showing how to get started with Windows 8 and get to grips with the new Windows 8 interface. It deals with the basics (everything you could do from the Start screen in previous versions), accessing items, arranging your screen and using additional controls that are available from the sides of the screen. A lot of the functionality of Windows 8 is aimed at touch screen devices, whether they are desktop computers, laptops or tablets. This is dealt with in depth, as well as showing how everything can still be done with a traditional mouse and keyboard. Apps are at the heart of Windows 8 and the new Windows Store has an app for almost everything you could want to do. The book shows how to access and download apps and then how to work with them, and organize them, when you have them. As well as the new features that are covered, all of the old favorites are looked at in detail, such as working with folders and files, accessing the Internet, using email and messaging, working with photos and video, networking with Windows and system security. Windows 8 will open your eyes to a new way of computing and Windows 8 In Easy Steps will help you see clearly so that you can quickly feel comfortable and confident with this exciting new operating system. ...Show more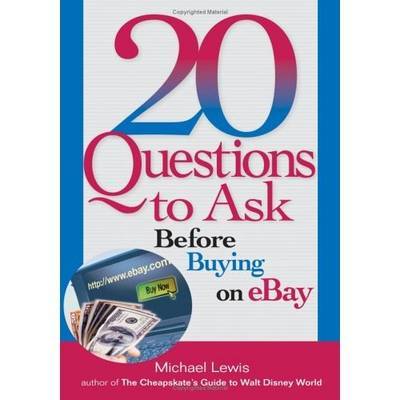 $6.99
AUD
$19.95
(64% off)
Category: Computing
Contains everything you need to know to guide you through the buying process. With over 80 million registered eBay users in the English speaking countries, consumers are empowered to buy just about anything at a price that's fair. And millions have used eBay to either sell some of the stuff lying around the house or they make a living utilising this unique online flea market. This latest addition to the "20 Questions" series breaks the subject of "eBaying" down into the important things to bear in mind before committing to buy. Of the millions of eBayers, the vast majority are buyers. In "20 Questions To Ask Before Buying On eBay", shoppers will learn it all - from how to get started, how to search for an item and how to "etch" an item; to how to place a bid, how not to get outbid, what happens when the auction ends and the importance of feedback. "20 Questions To Ask Before Buying On eBay" takes readers step-by-step through the process, each chapter building on the information taught. The book is written as a fresh and lively narrative, with plenty of bullets, checklists and useful advice learned from the authors' experiences. It's all the information buyers need to not only get started, but to do eBay their way! ...Show more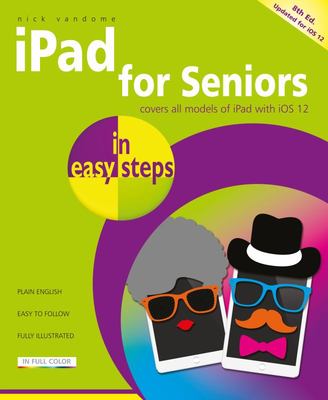 $27.99
AUD
Category: Computing | Series: In Easy Steps Ser.
iPad for Seniors in easy steps, 8th edition gives you all the essential information you need to know to make the most out of your iPad: Choose the right model for you Navigate around with Multi-Touch gestures Master Settings and apps to stay organized Find, download and explore exciting apps Use your iPad to make travelling stress-free Email, share photos and video chat for free Access and share your music, books and videos Stay in touch with family members Access your documents from anywhere A handy guide for any Senior new to the iPad, covering iOS 12, presented in larger type for easier reading. For all iPads with iOS 12, including iPad Mini and iPad Pro. ...Show more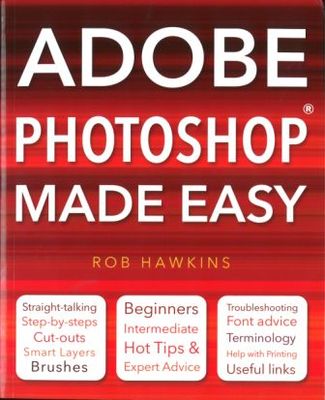 $14.99
AUD
Category: Computing | Series: Made Easy Series
Adobe Photoshop is an application used not just by professional designers, but by photographers, artists and anyone wishing to take sophisticated control over their images. This title includes step-by-step guides, projects and sections on every element of image manipulation.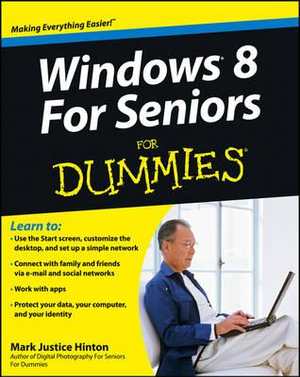 $35.95
AUD
Category: Computing
Help seniors get started with Windows 8 with this easy-to-understand guide! In easy-to-follow steps, this fun and friendly guide shows you clearly how to use Windows 8. Featuring a large font that makes the book easier to read and magnified screen shots to help make the subject matter less intimidating, author Mark Justice Hinton walks you through the basics of Windows 8, so you can make the switch without a hitch. Explains Windows 8 with easy-to-follow steps and tips for senior readers Covers how to use the Internet, send and receive e-mail, upload and download photos, view video, listen to music, play games, use a webcam, and more Uses a senior-friendly larger font for text and includes more than 150 enlarged screen shots Discusses topics important to senior readers, including keeping data and personal information safe and secure Get started using the exciting features of Windows 8 today, with Windows 8 For Seniors For Dummies. ...Show more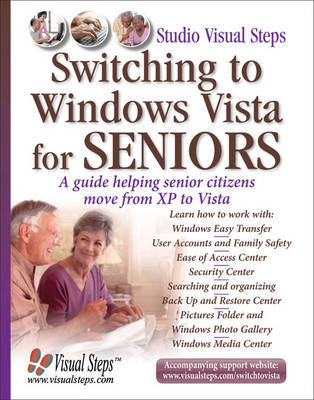 $29.95
AUD
Category: Computing
This straightforward guide takes users through the new features of Windows Vista in a simple, step-by-step manner. Focusing on acquiring new skills, this basic guide will help users become familiar with features of the Windows Vista operating system, including back-up and restore, the media center, phot o gallery, searching and organizing files, the security center, user accounts, and family safety. ...Show more
$42.95
AUD
Category: Computing | Series: Teach Yourself Visually (Tech)
Learn Windows 10 visually with step-by-step instructions Teach Yourself VISUALLY Windows 10 is the visual learner's guide to the latest Windows upgrade. Completely updated to cover all the latest features, this book walks you step-by-step through over 150 essential Windows tasks. Using full color screen shots and clear instruction, you'll learn your way around the interface, set up user accounts, play media files, download photos from your camera, go online, set up email, and much more. You'll even learn how to customize Windows 10 to suit the way you work best, troubleshoot and repair common issues, and optimize system performance to take advantage of everything the operating system has to offer. This guide has everything you need to know so you can take advantage of all Windows 10 has to offer. * Learn essential Windows tasks with step-by-step instructions * Customize Windows and optimize performance with simple tricks * Troubleshoot and repair applications, and perform basic system maintenance * Protect your files, manage media, create user accounts, and much more If you are a visual learner, this guide is the easiest way to get up and running quickly. Patient pacing, plain-English instruction, and easy-to-follow screen shot-based tutorials show you everything you need to know every step of the way. If you want to get the most out of the latest Windows offering, Teach Yourself VISUALLY Windows 10 is the guide you need. ...Show more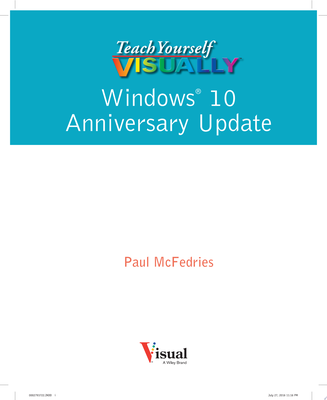 $42.95
AUD
Category: Computing
The ultimate visual learner's guide to Windows 10 Teach Yourself VISUALLY Windows 10 Anniversary Update is the quick and easy way to get up and running with Windows 10 and Windows 10 Update. From setting up to shutting down and everything in between, this book guides you through everything you need to know to start working with Windows 10. Learn how to customize Widows 10, pin an app to the Start menu, work with files and digital media, customize the interface, optimize performance, set up email, go online, and so much more. Two-page spreads, detailed instruction, and expert content walk you through more than 150 Windows tasks. Coverage includes the Windows 10 release, along with the newest features of the Windows 10 Anniversary Update. This is your visual guide to learning what you can do with Windows 10 and Windows 10 Anniversary Update. Find your way around Windows 10 with full-color screen shots Install programs, set up user accounts, play music and videos, and more Learn basic maintenance that keeps your system running smoothly Set up password protection and troubleshoot basic issues quickly ...Show more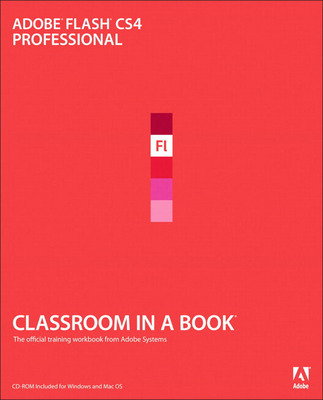 $39.95
AUD
$54.95
(27% off)
Category: Computing | Series: Classroom in a Book
The fastest, easiest, most comprehensive way to learn Adobe Flash CS4 Professional. Adobe Flash CS4 Professional Classroom in a Book contains 10 lessons. The book covers the basics of learning Adobe Flash CS4 Professional and provides countless tips and techniques to help you become more productive with the program. You can follow the book from start to finish or choose only those lessons that interest you. Learn how to design Flash projects with sophisticated animation, import video and sound files, and integrate buttons with compelling interactivity using ActionScript 3.0. Powerful features such as the new Motion Editor, inverse kinematics, and support for 3D will make developing your Flash sites fast, easy, and fun. ...Show more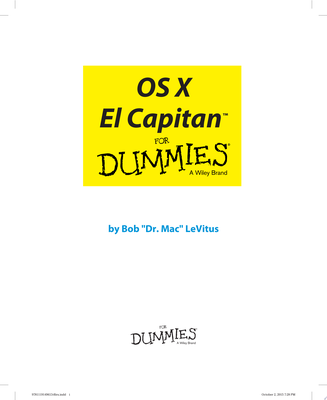 $46.95
AUD
Category: Computing
Get up to speed on the latest Mac OS Getting a new Mac and not knowing how to use it is like getting a remote controlled car for Christmas with no batteries. OS X For Dummies powers your understanding of the latest Mac operating system through straightforward, fun content that covers the basic features and functions you need to know. An essential text if you're not already familiar with Apple technology, this resource walks you through the fundamentals of Apple's Mac OS, shows you how to customize your workspace, work with the Dock, leverage the Finder and Finder Tabs, understand files, folders, and tags, find things with Spotlight, use Mission Control and Launchpad, organize your life through Calendar, Reminders, Notes, and Notifications, and much more. Apple is one of the most popular technology companies in the world, known for its ability to combine power and stability with style. Since all of Apple's products function according to its proprietary operating system, it's essential that you understand how to use the OS to make the most of your tech toys. * Take your communication to the next level with email and messaging capabilities * Enjoy multi-media entertainment by surfing the web and accessing movies, music, ebooks, and digital photos * Let your creative side run free with Text Edit * Create a seamless digital experience by connecting a printer, running multiple displays, networking, file sharing, backing up and restoring your system, and keeping your machine safe with Gatekeeper OS X For Dummies breaks down Apple's Mac operating system into bite-sized pieces, allowing you to digest small morsels of information that guide you in navigating your new Apple gadget. ...Show more
Facebook for Dummies
by Carolyn Abram; Amy Karasavas (As told to)
$38.95
AUD
Category: Computing
Take control of your Facebook profile When you join Facebook, you're joining a community with over two billion people spread around the globe. It helps to have the insight on not only how to set up your profile and add content, but also how to make sure you control who sees--and doesn't see--your posts . Facebook For Dummies provides the trusted guidance you need to set up a profile, add content, and apply the many tools Facebook provides to give you control of your content. Primarily known as a way for individuals to share information, photos and videos, and calendar invitations, Facebook has gained prominence as a means to spread news, market products, and serve as a business platform. Whatever you're looking to use it for, this book shows you how to use all the features available to make it a more satisfying experience. Build your profile and start adding friends Use Facebook to send private messages and instant notes Discover ways to set privacy and avoid online nuisances Launch a promotion page Get ready to have a whole lot of fun on the largest social network in the world. ...Show more