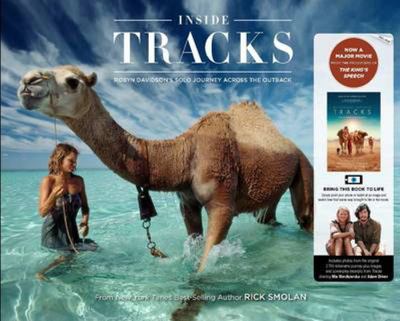 $14.99
AUD
$59.99
(75% off)
Category: Travel
Inside Tracks is the retelling of Robyn Davidson's journey from Alice Springs to the Indian Ocean, seen through the eyes of world renowned photographer, Rick Smolan, and now reimagined in the major motion picture, Tracks. In the late 1970s Robyn Davidson undertook an epic adventure - to travel solo acro ss the Australian outback from Alice Springs to the Indian Ocean, armed only with a few camels and her dog for company. Rick Smolan, a National Geographic photographer at the time, was employed to document Robyn's journey, by accompanying her along sections of her route, the result of which formed a long-lasting relationship between the two and a visually stunning account of one woman's dream of solitude, captured against the backdrop of the Australian outback. Inside Tracks is an ode to the Australian outback and Robyn's groundbreaking journey - a stunning coffee table book and reflection on our landscape in one. This unique story has now been turned into a major feature film featuring Mia Wasikowska and Adam Driver as the protagonists. Inside Tracks documents Robyn and photographer Rick Smolan's story and how her journey has resonated around the world. Featuring excerpts from the screenplay along with stills from the movie that show how closely the film mirrors the reality of the story, Inside Tracks is a must-have for lovers of Robyn's original book and the film alike. In addition, this book accompanies a unique photo recognition app' that plays scenes from the movie when placed over particular images in the book - a wonderful bonus for movie and tech' fans. Inside Tracks is a stunning coffee table book to be treasured, a book that brings to life one of the world's most unique travel stories. ...Show more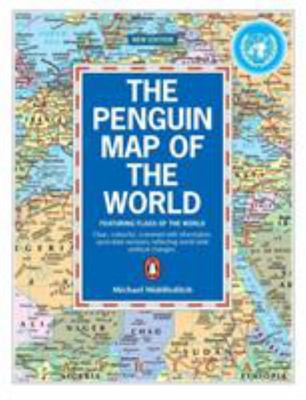 $14.95
AUD
Category: Travel
Includes the flags of the world and political boundaries.
$19.99
AUD
$45.00
(55% off)
Category: Travel
Visit some of the most remote and beautiful places of south and west Australia in Green Nomads Wild Places, Bob Brown and partner Paul Thomas's three-month adventure across Australia.  This is a photographic and written record of a journey that took them first by yacht and then by road along the coas ts and by-ways of southern Australia. They floated in hidden harbours and on ancient rivers, climbed over age-old rock formations, and camped at isolated Bush Heritage Australia properties, revelling in the beauty of the natural universe. Bob Brown and Paul Thomas remind us how extraordinary and diverse is our natural world.  Green Nomads Wild Places is a superb companion to Green Nomads, the book of their first 19 000 kilometre journey inland through eastern Australia, which followed Bob's retirement after 16 years in the Senate.  Praise for Bob and Paul's previous book, Green Nomads: "Green Nomads can be compared with publications by other stalwart defenders of the world's ecological systems such as David Attenborough and the Prince of Wales." - Clyde Selby, Mercury "Green Nomads is ... pretty much all that you could imagine: glorious" - Thuy On, Sunday Age ...Show more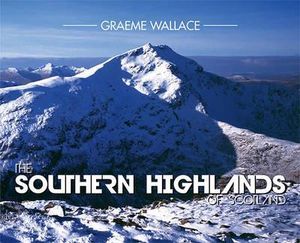 $24.99
AUD
$59.99
(58% off)
Category: Travel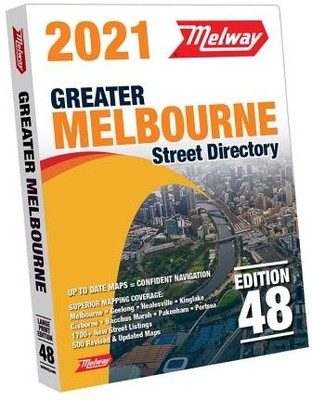 $54.99
AUD
$62.99
(12% off)
Category: Travel
In keeping with Melway's policy of continuous improvement through high standards of detailed mapping, all maps have been thoroughly researched and updated for this 48th edition.   Melway, the most comprehensive street directory available for the Greater Melbourne area, has coverage extending from Wal lan, Whittlesea and Kinglake in the north to the Mornington Peninsula in the south, Warburton and Tynong in the east to Bacchus Marsh and Geelong in the West. Regional areas of Kilmore, Macedon, Gisborne, Riddells Creek, Bannockburn, Torquay, Anglesea, Lorne, Phillip Island and Koo Wee Rup are also included.   What's Included • Construction has commenced on the new West Gate Tunnel - At over 4 kms long, the new tunnel will provide a viable alternative to the West Gate Bridge. • Construction continues on the Melbourne Metro Rail Tunnel - this will add five new stations from South Kensington railway station to South Yarra railway station. Station names are North Melbourne, Parkville, State Library, Town Hall and Domain. • Over 1700 new street listings • Over 500 revised and updated Street Listings • Cross referenced street listings - The Melway street index features alternative (sounds like) spellings and cross referencing of multi-part street names. Now you can find your way even when you only have part of the name or an incorrectly-spelled name. ...Show more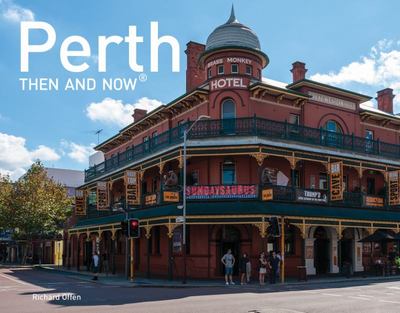 $9.99
AUD
$19.99
(50% off)
Category: Travel
Archival photographs of Perth have been carefully matched with specially commissioned colour photos to reveal the past and present of this fascinating city. Perth Then and Now accurately matches historic photographs of the city with specially commissioned contemporary views that show how each site looks today. With an Aboriginal history going back over 40,000 years, Perth ranks amongst the oldest places on earth with near continuous human habitation. The modern city came into being in 1829 with the formation of the Swan River Colony. For the first 60 years of its existence, Perth was no more than a small country town which lived on an economic knife-edge between riches and ruin. Then, in the 1890s, commercial quantities of gold were discovered in the North and East of Western Australia. This sparked the first of several mineral booms in the State and resulted in Perth being able to demonstrate its newfound wealth in the form grandiose buildings which transformed the modest town into a fine city. Since the late nineteenth century, a cycle of 'boom and bust' has added successive layers of development to the city's rich tapestry of building styles. As with many cities around the world, Perth witnessed the destruction of many older buildings during the last quarter of the 20th century, but has now learned to respect its heritage, resulting in some spectacular and imaginative adaptive reuses of older buildings. Past and present are laid side by side in this fascinating visual tour around the capital of Western Australia. Sites include: Crawley Baths, Narrows Bridge, King's Park, Cottesloe Beach, T&G Building, Government Gardens, Russell Square, City Beach, St Georges Terrace, Hay Street, HIs Majesty's Theatre, Hyde Park, Piccadilly Arcade, Hotel Metropole, Town Hall, St George's Hall, the WACA, GPO Building, Central Arcade, St Mary's Cathedral, Matilda Bay, Horseshoe Bridge, Swan Brewery. ...Show more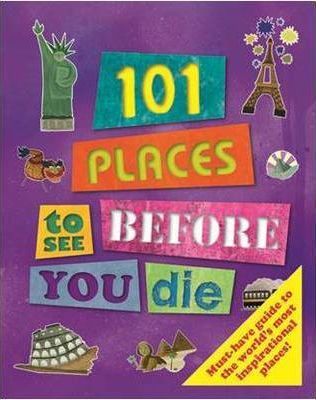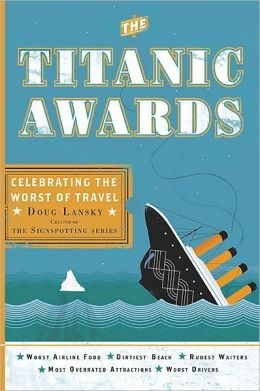 $7.95
AUD
$16.95
(53% off)
Category: Travel
From the worst airport layout to the most confusing subway system to the mostoverrated tourist attraction, Lansky looks at flawed travel destinations witha gimlet eye and a sense of the absurd.
$19.99
AUD
Category: Travel | Series: Map Ser.
From Lonely Planet, the world's leading travel guide publisher With an easy-fold, easy-to-use format, Lonely Planet Europe Planning Mapis your conveniently-sized passport to traveling with ease. Get more from your map and your trip with images and information about top country attractions, itinerary su ggestions and themed lists. With this easy-to-use, full colour navigation tool in your back pocket, you can truly get to the heart of the Europe, so begin your journey now Easy-fold format Handy slipcase Full colour and easy-to-use Beautiful imagery Tailored itineraries Can't-miss regional highlights Detailed town index Themed lists Covers London, Paris, Berlin, Rome, Venice, Barcelona, Lisbon, Granada, Amsterdam, Vienna, the Matterhorn, Athens, Santorini, Istanbul, Budapest, Dubrovnik, Prague, Transylvania, British Isles, Western Europe, Central Europe, Mediterranean Europe, Eastern Europe, Scandinavia & the Baltic Sea Check out Lonely Planet Europe, our most comprehensive guidebook to the continent, covering the top sights and most authentic offbeat experiences. About Lonely Planet: Lonely Planet is a leading travel media company and the world's number one travel guidebook brand, providing both inspiring and trustworthy information for every kind of traveller since 1973. Over the past four decades, we've printed over 145 million guidebooks and phrasebooks for 120 languages, and grown a dedicated, passionate global community of travellers. You'll also find our content online, and in mobile apps, video, 14 languages, 12 international magazines, armchair and lifestyle books, ebooks, and more, enabling you to explore every day. Lonely Planet enables the curious to experience the world fully and to truly get to the heart of the places they find themselves, near or far from home. TripAdvisor Travelers' Choice Awards 2012, 2013, 2014, 2015 and 2016 winner in Favorite Travel Guide category 'Lonely Planet guides are, quite simply, like no other.' - New York Times 'Lonely Planet. It's on everyone's bookshelves; it's in every traveller's hands. It's on mobile phones. It's on the Internet. It's everywhere, and it's telling entire generations of people how to travel the world.' - Fairfax Media (Australia) ...Show more