$29.99
AUD
Category: Diet Cook Books
THE ULTIMATE GUIDE TO FASTING, WEIGHT LOSS AND LONG-TERM GOODHEALTH THE CULMINATION OF DR MOSLEY'S BESTSELLING DIETING TRILOGY FEATURES REVELATORY NEW SCIENCE WITH A HIGHER 800-CALORIE LIMIT   Six years ago, Dr Michael Mosley started a health revolution with The 5.2 Fast Diet, telling the world about th e incredible power of intermittent fasting. In this book he brings together all the latest science (including a new approach: Time Restricted Eating) to create an easy-to-follow programme. Recent studies have shown that 800 calories is the magic number when it comes to successful dieting – it's an amount high enough to be manageable but low enough to speed weight loss and trigger a range of desirable metabolic changes. Depending on your goals, you can choose how intensively you want to do the programme: how many 800-calorie days to include each week, and how to adjust these as you progress. Along with delicious, low-carb recipes and menu plans by Dr Clare Bailey, The Fast 800 offers a flexible way to help you lose weight, improve mood and reduce blood pressure, inflammation and blood sugars. Take your future health into your own hands. ...Show more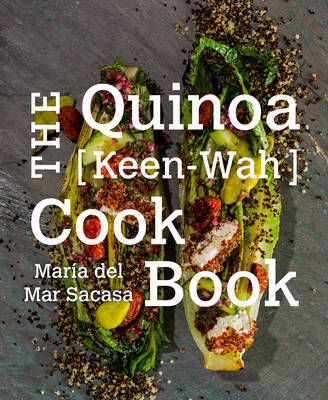 $19.99
AUD
$37.99
(47% off)
Category: Diet Cook Books
Inspired by the success of health-minded, irreverent cookbooks such as Fifty Shades of Kale and Thug Kitchen, The Quinoa [KEEN-WAH] Cookbook offers a sendup of the latest hipster grain, along with 75 seriously delicious recipes. In the increasingly trend-driven and health-conscious food world, there ar e a handful of foods that inspire both admiration and irritation. Quinoa is one of them. Not only has it become as ubiquitous as kale salads or acai bowls on hipster cafe menus, it is also frustratingly difficult to pronounce and can be even more challenging to prepare. Enter The Quinoa [KEEN-WAH] Cookbook. With more than seventy-five fresh and fun takes on this ancient grain, foolproof cooking instructions for getting perfect results every time, and a nutritional overview that explains why everyone has gone quinoa-crazy, this cookbook will appeal to both quinoa converts and novices alike. Accompanied by gorgeous four-color photography, the cookbook features recipes for breakfast, lunch, dinner, snacks, and desserts, and will show readers inventive and often offbeat methods for utilizing the protein-rich grain in ways they'd never expect-such as quinoa tacos, a '50s-inspired quinoa casserole, and even quinoa cupcakes. Move over kale: it's quinoa's time to shine. ...Show more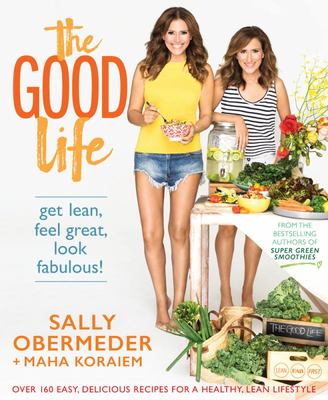 $34.99
AUD
Category: Diet Cook Books
Sally Obermeder and her sister Maha Koraiem have always loved to cook. First they shared their amazing smoothies with us in their bestselling Super Green Smoothies. Now they are back with The Good Life, a cookbook full of delicious, easy to make meals they love to cook. Sally and Maha's recipes are focu sed on a super green lifestyle to keep you feeling satisfied, energized, lean, and strong. Their delicious breakfasts, lunches, and dinners are full of fresh veggies, superfoods, and proteins. Plus, with Sally's penchant for a sweet treat, their tempting desserts allow for indulgence without the guilt! So if you love food and want to feel great, join Sally and Maha in living The Good Life! ...Show more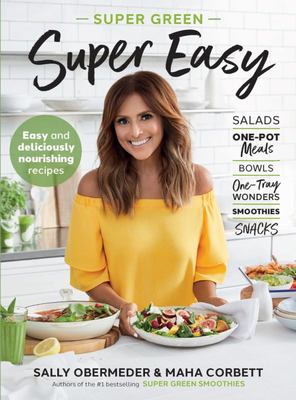 $24.99
AUD
Category: Diet Cook Books
Easy and deliciously nourishing salads, one-pot meals, bowls, one-tray wonders, smoothies and snacks from the authors of the mega-bestselling Super Green Smoothies.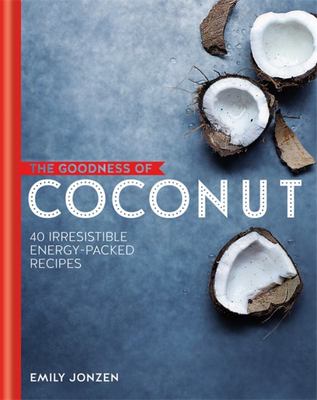 $19.99
AUD
Category: Diet Cook Books | Series: The\Goodness Of . Ser.
Few foods have seen the spotlight in recent years as much as the coconut. Since lingering at the bottom of the fashionable fruit chart, the brown, hairy and difficult to crack contender has risen to the top, making up for what it lacks in looks by packing a nutritional punch. Hailed as one of the top su perfoods of 2015, sales of coconut-based food have rocketed, its liquid form has even been referred to as an 'uniquely curative elixir' - indeed, the humble coconut is certainly having it's moment. Once confined to the filling of a Bounty bar, coconut now comes in an array of forms; Emily Jonzen arranges her book by texture and variety, with chapters divided into Milk & Water, Oil, Flour and Desiccated. Packed with an amazing range of recipes from savoury dishes such as Coconut-crusted Chicken or Stir-fried squid to sweet things such as Coconut Flour Pancakes and Coconut & Pistachio Brownies, Emily will have you going nuts over nature's finest and most versatile ingredient. The unassuming coconut is now taking its rightful place as the darling of the 'superfoods'.While they may not be much to look at, they are your best cooking companion - work these hairy wonder-fruits and reap the healthy benefits. ...Show more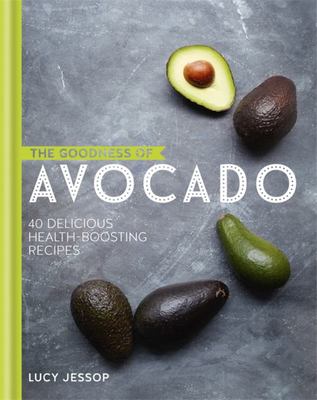 $19.99
AUD
Category: Diet Cook Books | Series: The\Goodness Of... . Ser.
Avocados are having a moment, and for good reason. Creamy, moreish and nutritious, there's no wonder we're all going mad for them. Yes, they're high in fat, but it's the good kind, plus they have antioxidant properties, help protect against damaging free radicals and help maintain healthy blood pressure . With chapters divided by texture, Avocado offers an abundance of recipes to enjoy this healthy fruit. Whether you like it smooth, smashed, chunky or whole, there doesn't seem to be a way that this nutrient packed fruit can't be eaten. Smashed on toast for a snack, topped with eggs for brunch, whizzed into feel-good smoothies, chopped into zingy salsas to serve with fish or meat, sliced into on-the-go lunches, shaken into a salad dressing or swapped with cream to make an indulgent dessert, the mouth-watering list goes on. ...Show more
$27.00
AUD
$29.99
(9% off)
Category: Diet Cook Books
From one of America s foremost and pioneering juicing companies comes a beautifully illustrated guide to creating restorative and energizing juices and smoothies; as well as preparing nutrition-rich, blended superfoods. No matter where you fall on the Green Curve whether you are newly Juice Curious or a lready passionate about raw foods and pressed juices; and no matter what your diet goals are "The Juice Generation" offers the perfect juice and green foods regimen for you. Featuring more than 100 recipes, and illustrated with gorgeous full-color photography, "The Juice Generation" will help you find the perfect juice or smoothie. The book offers practical, down-to-earth instructions for making revitalizing and great-tasting fruit and vegetable juices, smoothies, and tonics, using easily sourced fresh ingredients and the latest information on superfoods. The book also contains a 3-day cleanse as well as juicing favorites from a great many celebrities, including: Martha Stewart, Gayle King, Naomi Watts, Michelle Williams, Blake Lively, Hilary Swank, Edward Norton, and Katie Couric. Enjoy health-boosting, spirit-lifting, gem-colored vegetable and fruit juices; thick, luscious smoothies; detoxing cleanses and elixirs; and mouthwatering, complete raw meals in a glass. This is your one stop for everything you need to become part of the Juice Generation. ...Show more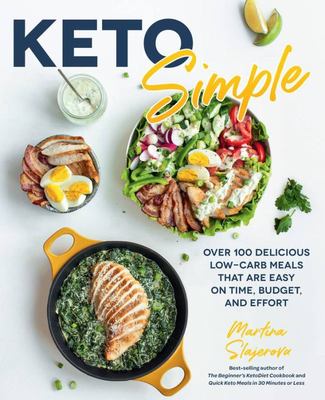 $32.99
AUD
Category: Diet Cook Books
Best-selling KetoDiet author, Martina Slajerova gives 100 delicious recipes that are easy in preparation and technique, frugal in the number of required ingredients, and can be put together quickly. No stress. No complication. Just a great keto meal from stove to table in minimal time. Keto has become the hottest health-supportive diet around. However, even the most committed keto follower doesn't always have the time and inclination to cook for 90 minutes or the budget-bandwidth for 14-ingredient dinners. With Keto Simple, you can live your keto lifestyle without it becoming expensive, complicated, or all-consuming. Along with simply amazing recipes, find meal-prepping, planning, and shopping strategies that save you time and money. Whether you are looking for a quick recipe to throw in your office lunchbox or how to build out leftovers and simple base recipes into tomorrow's menu, Keto Simple has you covered.   ...Show more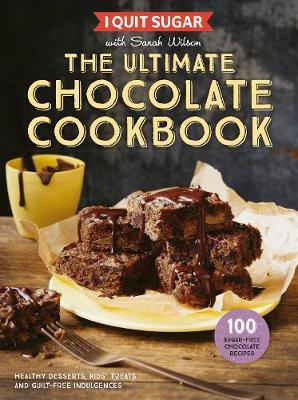 $24.99
AUD
Category: Diet Cook Books
Sarah Wilson and her IQS team taught the world to quit sugar in eight weeks and then went on to teach everyone how to cook delicious essentials, simply.Sarah incorporates her mindful, sustainable and economical practices to ditch the guilt and show how to quit sugar without also quitting chocolate. Here , she's compiled fructose-free recipes for the family, individuals and our little people.In I Quit Sugar: The Ultimate Chocolate Cookbook, Sarah and her team share:- how to start your day right with chocolate for breakfast- ideas for a bite of something delicious for that afternoon boost- how to bake 'naughty' classics with an IQS makeover- show-stopping ideas for friends and parties- sweeten any occasion with a plate of something special- how to enjoy a sugar-free Easter!Written with all the care and expertise you have come to expect from Sarah and her I Quit Sugar team, this is the book that makes sweet meals and treats in a sugar-free world easier, more creative and tastier than ever. ...Show more
Low FODMAP Recipes
by Sue Shepherd; Cathy Muscat (Photographer)
$35.00
AUD
Category: Diet Cook Books
Sue Shepherd is a highly regarded dietitian who suffers from coeliac disease. She has devoted much of her career to finding a way for people with dietary restrictions to enjoy life without feeling they are missing out. In 1999 Sue was a member of the research team which developed the Low-FODMAP Diet to cater for people with intolerances to fructose, wheat, lactose, sorbitol and other FODMAPs - making it possible for people with irritable bowel syndrome (IBS) to cook with confidence. This diet is recommended by doctors worldwide as one of the most effective dietary therapies for IBS. In addition, all the recipes are gluten free, so they are suitable for people with coeliac disease to enjoy as well. In this collection, Sue brings together 150 of the most popular recipes from her two self-published cookbooks, Irresistibles for the Irritableand Two Irresistible for the Irritable. Written with the whole family in mind, these updated recipes include simple soups and salads, hearty casseroles and pasta dishes, wicked desserts and a tempting array of cakes and biscuits. This is great-tasting food that is good for you. ...Show more